Updates

Sunday, July 14, 2002 - There's really nothing new to report, but I wanted all of you dedicated visitors to know I'm still alive! I've continued to keep my weight off (two years now!) but I still fight those last 10 pounds. But I've bought myself some new exercise tapes and have been working out with them, plus walking on my treadmill (it's too hot to walk outside for me). Plus it's back to Subway sandwiches!

I'm a judge in the Miss Virden competition in August and am looking forward to it. I will definitely have those 10 pounds off by then!

I again want to encourage those trying to lose to visit the Subway Dieters Group. It is a very active group and what a great bunch of encouragers!


Tuesday, May 14, 2002 - Thank you for all your prayers and e-mails regarding my skin cancer. I went back to the doctor on Friday and there was bad news and good news. The biopsy came back and it was melanoma. The good news was that it appeared from the edges of the skin sample that they removed all the cancer when they took the biopsy sample and no further surgery will be needed. I will just have to go back every 3 months to have it rechecked and keep and eye on it.

In the meantime, this summer will be a different one for me because I'm not going to be the sun worshiper I have always been. This one was too close for comfort! I've been getting my tan from a bottle and no one can tell the difference. They've definitely improved tanning products over the past few years.

Once again, thanks for all the e-mails and prayers. I sincerely believe all the prayers saved me from any other surgery.

Sunday, May 5, 2002 - A few weeks ago, a spot appeared on my right leg, inbetween my knee and my thigh. It didn't bother me until it started growing and becoming sore. This week I went to the doctor and was told I have skin cancer. My years of tanning finally caught up with me. They took a biopsy of it and the results will be in on Friday, May 12th. If it is malignant, I will have to have surgery. When they took the biopsy, they stitched up the spot they cut out. I haven't been able to do much most of the week. I was just getting where I was walking every morning and feeling great, but because of the stitches healing and the bruise where they stuck the GREAT BIG needle (man, did THAT hurt!!!!!!), I haven't been able to move around too well.

Today, I finally feel better and will start walking again tomorrow. But if I have to have surgery, it looks like I'll be out of commission for awhile. Being one who is a sun worshiper and loves having a tan, it's gonna be a big change for me this summer. But I keep thinking of all the extra time I'll have on my hands now that I won't be spending the weekends laying in the sun. In fact, it was beautiful out this weekend, and I started some home projects (when I'd usually lay in the sun). Also this weekend, I went out and bought some sunless tanning lotion. I never used it before, but it works great!

Keep me in your prayers this week, especially on Friday when I get my results.

On a happier note, it is me and Kevin's 23rd wedding anniversary today! I am very blessed with a wonderful husband!

(HAPPY ANNVERSARY, KEV!!!)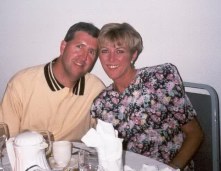 Friday, April 5, 2002 - I received the nicest letter from a fellow Subway dieter today from Nova Scotia. His name is Derek Lesser and he's 28 years old and a school teacher. He gave me his website where he is documenting his weight loss. So far he's lost 32 pounds and his goal is to lose a total of 125. It's an awesome website and I had to include it for your to check out. It's a great diet motivator, so check it out!

Tuesday, April 2, 2002 - Spring is finally starting to appear here in Illinois. I started walking outside in the morning (5 a.m.!!!!) and hope to be jogging by the first of May. I can't believe how much more energy I have all during the day just by walking for a few miles before work. I HIGHLY recommend it.

Still eating Subway sandwiches several times a week. I don't even have to tell them what I want on my sandwich at my regular Subway store - they all have it memorized.

I still get several e-mails a week from people giving my diet a try. I love getting e-mails, so keep them coming.

Sunday, March 10, 2002 - I can't believe how many free things you can find on the internet. I'm always sending away for stuff - I've received free make-up, address labels, screen savers, patriotic decals and on and on. And so I've added some of my favorite freebies on my Favorite Links page. I'll be changing them occasionally as I find ones I think are worth sharing with my friends. So keep checking back. I may eventually add a Freebies page if they get too overwhelming. While in CA making the commercials, I got hooked on Starbucks Coffee and so I made sure to include a free offer from Starbucks.

Monday, March 4, 2002 - It's been awhile since I've updated my website, so thank you to all you loyal visitors for continuing to visit the site. Even though it's been a long time since any of the commercials I'm in have aired, my Website counter continues to climb.

Nothing new has occurred for me dealing with Subway, but I'm sure you've all seen the newest commercials. I recently had a friend call me on the telephone and sing the entire "Clay Henry" song to me - every single word! So it's definitely making an impression.

On a personal level, I'd like to share with you a miracle I witnessed this morning. Yesterday morning I received a call from the nursing home where my Gramma has been living. My Gramma has Alzheimers, and even though her mind has not been healthy, her body has stayed strong. But yesterday that all changed. They called to tell us that they were unable to waken her in the morning, and although she was still breathing, we needed to get there as soon as possible. My parents were in Florida for the winter and so my sisters and I rushed to be by my Gramma's side. We called my mother (it is her mother) and they packed up and headed home.

We stayed vigil by my Gramma's side, praying that my parents would hurry and get home safely. My Gramma had remained in a coma state and we knew she was hanging on by a thread. Twenty-four hours later, this morning around 10:00am, my parents arrived. My mother leaned over to talk to Gramma. Gramma opened her eyes for the first time since we were called, attempted to say something to my mom and then her breathing stopped.

I had heard stories like this before but had questioned them. Today I saw for myself what I felt was a miracle. My Gramma had held on until she knew my mom was with her. And then she peacefully died.

My Gramma lived a wonderful full life, a life centered first around God and then her family. She passed on to me a wonderful heritage. I shall miss her dearly, but I know in my heart I will see her again.



I love you Gramma!!

Saturday, January 19, 2002 - I hope your 2002 is off to a good start. I've received lots of e-mails from people who are starting a new diet following my plan. For those of you who have been following it, I'd love to hear how you are doing! I haven't got any updates for awhile.

My 2002 is definitely off to a great start. My family joined a health club and I've really been working hard to muscle up. I've been doing weight training 3-4 times a week and try to get to an aerobics class at least twice a week. Boy does it feel good. Once it gets nice out, I hope to be in good enough shape that I can start running. I have a race to train for in May, so hopefully I'll have my strength and endurance up by March that I can actually start running.

Tomorrow I'm off to sunny Florida to visit with my sister for 6 days. I talked to her today, and it's supposed to be near 80 this week. It snowed about 2" here last night, making 80 degrees even more desirable.

EXCITING NEWS!!! Jackie Biesanz, from the beach, softball and family reunion commercials, had a baby on January 15th, so I am now a "Subway Grandma!" Joella Ravin weighed in at 8 lbs. 4.5 oz, and 20.5 inches long with dark brown hair. I look forward to going to "meet" her in the next month or so.

Next update, I'll have pictures of my Florida trip and hopefully of Baby Joella.

I'll leave you this month with a new favorite quote. "You don't stop laughing because you get old, you get old because you stopped laughing!"

Wednesday, December 26, 2001 - I love Christmastime, but I'm always glad it's over so life can get back to some sort of normalcy. Also, it's so hard not to gain weight during the holidays. I only gained about 10, but it's back to Subway exclusively for a few days. Also, next week I start working out at the health club we just joined. I am planning on running a race in May and so it's time to start training. To give me a little motivation, most of my Christmas gifts revolved around working out - a pedometer, some really nice-looking aerobic clothes, a running suit. I am really excited to get started training.

The New Year is just days away and I look towards it with some trepidation. After all, there's no way 2002 can be as good as 2001 was for me - or can it???? Now that I'm at a good weight and have stayed there for over a year, I do look forward to getting stronger and firmer. I plan on adding a new page to my website showing my exercise plan, the results, and possibly a running log.

I hope your holidays were wonderful and that 2002 only holds wonderful things in store for you.

Monday, December 17, 2001 - I apologize for taking so long to update my site. It has not been republished since the first of November, so be sure to also read the November 23rd update which follows. I was having a few problems with publishing my page,. but I'm back.

Yesterday, my husband and I were watching the football game on CBS, and low and behold my "old" commercial was on - the one that shows me getting off the bus and actuallly gives my name. What a pleasant surprise.

We're all decked out for Christmas here at the Blakeman household. Saturday I spent all day baking cookies and making Chex Party Mix. At work, we've had treats every single day for over 10 working days. What a tough time of year to keep the weight off. But I've managed to maintain. I've just learned not to go overboard like in the old days. One of the gifts we got our sons for Christsmas is membership to a local health club. We purchased a one-year family membership. I'm anxious to give them the present so I can get started on a weight-training program. I'm planning on participating in 2 aerobic classes a week and weight training two times a week.

I'm going to Florida to visit my sister a few weeks after Christmas and even though the weather has been nice here, I'm anxious to be able to wear shorts again.

I hope all of you have a very blessed Christmas, and never forget that Jesus is the reason for the season. God bless us every one.

Friday, November 23, 2001 - I hope you all had a wonderful Thanksgiving and didn't eat too much!!! I have to admit, I ate more than more share, so it's probably going to be Subway, Subway, Subway for the next few days. This time of year is so difficult when it comes to dieting, but if you just remember to "splurge" only one meal a week and eat Subway rest of the time (or at least MOST of rest of the time), you should be okay. I did fine this time last year - I don't think I lost but at least I didn't gain.

This Thanksgiving has been especially meaningful to me, as it has I'm sure for all of us. As Americans, we have so much to be thankful for. And as for me personally, this has probably been one of the best (if not THE BEST) years in my life. It's hard to believe it was a year ago this month I went to California to shoot the first commercial. So much has happened during that year and I'm so grateful to so many people.

I've been walking on my treadmill nearly every night (finally)! For Christmas I've asked for some classy looking workout outfits; that always seems to keep me motivated. Of course, no one sees them besides me right now, but it still helps me to stick to exercising every night. Hey, whatever it takes!

I somehow lost my picture/scanner program so I couldn't post the pictures of Ralph, but I finally got a new program. So be sure to check out the pictures of Ralph on my Photo Album page.

Wednesday, November 7, 2001 - Last weekend, I went on a pretty special trip. On Friday, I did a radio interview on Q106.5 on the Dwyer and Michael morning show out of Davenport, Iowa. And I finally got to meet Ralph! (To learn more about Ralph, page down - he lost 120 pounds following my diet). He looks fantastic and is a real sweetie...if I were only about 20 years younger! The Q106.5 staff was fantastic, as they have been ever since the beginning of my adventures. I've had more e-mails and guests on my web site from their radio show than any other. I've received several e-mails from those who listened and if you're one of them and I haven't written you back yet - I will soon!

On Saturday, I went to Jackie's baby shower. Jackie was featured on the beach commercial this summer and also on our Family Reunion and Softball commercials this fall. She is expecting a baby in January. It was so good to see her again. She looks so cute, and I'm excited about being a "Subway Grandma" (Grandma???? Boy, I dunno!) I had two infant sweatshirts spraypainted for the baby shower - they both say "Subway Baby" on them. Jackie's mom, dad, and a few other family members had a nice dinner for us after the shower (THANKS DIANE AND MARK!)

On Sunday my sister (who accompanied me) and I went to the Mall of America. If you haven't been there and like to shop, you really need to go. It's a shopper's heaven.

The whole weekend was so much fun, except for getting to "meet" the Minnesota State Policeman as I was rushing to the baby shower. It looks like I will be contributing to the State of Minnesota's income this year.

I will have a few pictures of the long weekend hopefully in the near future - pictures of me and Ralph and Jackie at 8 months pregnant (if she doesn't mind). So be watching for the next update which should include the pictures.

Monday, October 29, 2001 - Well, the newest commercials are not being shown anymore, although you still may see them on your local channels.

This weekend, I'm going to visit Jackie (from the commercials). She is now 8 months pregnant and I am going to her baby shower. I have a really nice surprise for her baby - but I can't tell you about it right now in case she looks at this website. I'm really looking forward to seeing her again!

The City of Springfield employee's newsletter had a nice article about me and my Subway adventures in it this month. I've received a lot of nice e-mails and phone calls from fellow employees. I'm still receiving e-mails from other Subway "losers" although they have slowed down a bit. I love hearing all the success stories, so please keep me informed!

I had to go out an buy all new winter clothes (what a shame!) because even though I haven't lost any more weight and am maintaining very well, I've gone down 2 sizes since last winter. Hopefully this will be the last time I'll have to have a new wardrobe - even though I do now actually enjoy shopping. I didn't like to shop so much when I was in size 16's.

That's all for now. Things have slowed down, but you just never know...

Saturday, September 15, 2001 - This has been such an emotional week - we have seen our country severely assaulted. Please be sure to check out my new "I Love the USA" page. When I heard about the incidents on Tuesday, one of my first thoughts went to Jason from our Subway commercials. I knew he lived close to the World Trade Centers, but I wasn't sure where. I tried to contact him for several days via cell phone, home and work phone, then e-mail. He finally contacted me and I talked to him on the phone for quite some time. He is doing fine, but sounded very stressed out. The World Trade Centers are in his sales territory and he just happened to be running late that day - THANK GOD!

If you are trying out the Subway Diet, please be sure to join our Yahoo Subway Club. We have a chat room twice a week which is so much fun and such a good way to get support. The people in the club are wonderful and very encouraging. To go there, here's the link:


Thursday, September 6, 2001 - If you haven't seen the new commercials yet, you must not watch much television. It seems like they are on every channel! I'm starting to get recognized again, and the e-mail is flooding in.

Next week I'm going to a conference in Palm Springs, CA. I'm starting to feel like California is my home away from home! October 2nd, I am giving a presentation about my Subway adventures to a big conference of women here in Springfield. I've been working very hard on it - I only have 55 minutes total, and it's going to be tough for me to keep it that short. Once I get talking about it all, it's hard for me to stop.
I talked to Ralph today (see below - I have his before and after pictures), and he has now lost 120 pounds!!!!! He is sending me some new after pictures, which I'll put on my website. (I'M SO HAPPY FOR YOU, RALPH!!!!)
Life is busy once again, but that's the way I like it. Keep those e-mails coming. I respond back to every one of them.
Monday, August 27, 2001 - Well, I've been waiting for MONTHS AND MONTHS to tell you all about what I finally get to tell you tonight! You might have wondered why I had pictures with me and the newest group of Friends of Jared - the ones who made the beach commercial shown this summer. I was with them when they shot that commercial in Santa Monica, CA, back in March. The beach commercial was shot, but so were two other commercials - one called "Subway Family Reunion" and one called "Softball". I am in both of them, as well as Sean from the first commercial, the "beach" gang, and a few new ones. The Reunion and Softball commercials debuted today.
I haven't shared many of the pictures of my Santa Monica trip because I couldn't say anything about it until it aired. So now I've added a Santa Monica page I think you'll enjoy. Rather than give all the details here on my Updates page, the whole story is on that page. So check it out!
Tuesday, August 21, 2001 - Yesterday I did a live radio interview on KZII-FM Lubbock, TX (also on in Amarillo(KPRF) and Abilene (KHYS). So last night I answered lots and lots of e-mails again. Two other radio interviews are coming up - one out of Springfield (WQQL) and one out of Champaign.
I finally scanned in the pictures from the State Fair Parade, so be sure to check them out!
Sunday, August 12, 2001 - It was a busy week! I was in the State Fair Parade on Thursday representing Subway. I'll have pictures in a few days to share. I've been out at the Fair the past 2 days and it's amazing how much I still get recognized, but then there were over 100,000 people at the parade.
I got new pictures of Nate, who's been so kind to keep me updated on his progress on his diet. He looks absolutely incredible. Here, see for yourself!
| | |
| --- | --- |
| Nate Before | Nate Now |

KEEP UP THE GOOD WORK NATE!!!!
Sunday, August 5, 2001 - Well, I'm back at home and trying to adjust to a "normal" life again. I've posted lots of pictures from Las Vegas. There were so many pictures I wanted to share, I created a separate page for them, so be sure to check it out.
This Thursday, Sean and I will be in the Illinois State Fair Parade riding in a convertible with Subway signs on the side. A big thanks to Mike Orlando for making it happen. I know it's going to be a lot of fun!
In a few weeks, 2 new Subway commercials will be airing with some "new" Friends of Jared (check them out on Subway's website), plus me and Sean. We got a sneak peak while in Vegas and they both turned out great!!!! I won't tell you anything about them, so you'll just have to watch for them and see for youself. I hadn't been able to say anything until close to the time they debuted, but we were all flown out to Santa Monica way back in March to shoot them. What a great time it was. I'll post more information when I know exactly when they will be shown.
Friday, August 3, 2001 - I was going to wait to submit another update when I
got home, but I have a few hours before my flight and yesterday was so
exciting, I decided to go ahead and post another day in Las Vegas.
Yesterday, I stopped by the trade show and was told someone wanted to meet
me. I couldn't believe it when I heard who it was - Mrs. Fred (Liz) DeLuca.
In case you don't know, Mr. DeLuca is the founder of Subway (along with Dr.
Peter Buck). Mrs. DeLuca was just delightful, and I was very honored when
we had our picture taken together and she said she was going to put it on
her refrigerator to motivate her to lose weight (although I don't think she
even needs to!).
Then last night was the Gala Dinner. It was just wonderful and so much fun.
But the most exciting part of it, was I got to meet Mr. DeLuca himself. I
got my picture taken with him also. And what good timing....5 minutes later
he went on stage to get his head shaved (long story - but several of the
Subway execs agreed to shave their heads if they reached a certain goal).
So I'm glad I had my picture taken with him when I did - even though he
still didn't look bad at all! But he did have a beautiful head of hair.
Today I head back home and back to reality. It's going to be quite an
adjustment - I've felt like Cinderella out here. But I'm just so glad that
I have been so blessed to have this wonderful opportunity.
I'll have lots of picture to add to my photo album in the next few days (I
took FOUR ROLES!!!), so be sure to check back!
August 2, 2001 - Boy, what a day yesterday! Me, Myra, Sean and Kenneth (as
well as Jared) had to get up in front of the whole delegation. Of course
Jared was calm as a cucumber. Rest of us were pretty nervous, but we did
just great. They debuted our newest commercial coming out the end of the
month. It's a really good one and can't wait for you all to see it! They
actually have 2 versions. I'm shown in both, but more dominant in one than
the other.
Then Sean and I had to go sit in a booth. We weren't sure what we were
supposed to be doing, but when we arrived found out that convention members
could come meet us and have their picture taken with us. It blows my mind
that people were actually standing in line to have their picture taken with
me and get my autograph. Kevin went sightseeing while I "worked" the booth,
but I wish he would have been there to take pictures because I don't think
anyone back home would believe that there really was a line. I never smiled
so much in my whole life, but it was so much fun. I met alot of nice people
from all over the world.
After we were done at the booth, Kevin and I went sightseeing. It was kinda
neat because after being up in front of the conference delegation, I was
recognized quite a bit and people would come up and talk to me and tell me
congratulations.
Tonight is the big cocktail party, which I'm really looking forward to. I
don't get a chance very often to really get decked out, and I certainly will
be tonight!
Tomorrow it's back home. I'm sorry to see it end, but like they say
"there's no place like home." Next time I update, I should have lots of
pictures to include also. I've taken 4 rolls - it will be hard to decide
which ones to share.
Hugs to all from Vegas!!!!
Wednesday, August 1, 2001 - Yesterday was pretty exciting. We had rehearsal
for the big opening program tomorrow. This convention is quite a
production. The stage looks something like the Academy Awards, and they
even have a dance production! WOW!!! During our part of the program, Jared
will be on stage talking about Subway's success this year and they will show
all the commercials from 2001. Then they are bringing out the four of us
who are in the commercials. We each have a line to say. I wrote yesterday
there were 6,000 people. I found out there is actually only around 3,200.
But I'm still pretty nervous. Heck, I get nervous in front of 30 people!
I'm really excited to hear Fred DeLuca speak this morning - he is the one
who started the Subway chain. I've already heard Jared's talk while we were
rehearsing, and it's very good.
I finally got to see Myra yesterday. She looks absolutely wonderful. I
also ran into 2 of the Subway owners from Springfield. I think they were
quite surprised to see me. They didn't know I was going to be here.
Last night, Kevin and I toured Las Vegas. Today we will be at the
convention all day. Sean and I will be "working" a booth where delegates
can come up to meet us personally. That should be a lot of fun also.
Tonight there is a dance we will go to (I LOVE TO DANCE).
Well, I'll let you all know how it went tomorrow! Say a little prayer for
me today that I won't fall down going up the stairs or something!!!!
Till then....
July 31, 2001 - Well here I am in Las Vegas...and boy has the city changed
since I was here last. We are staying at the Paris Las Vegas and it is just
beautiful and HUGE!
When we got in last night, we went exploring and ran into Jared and his
fiance. It was really great to see him again. We didn't get to talk much
last night, but we're here for 4 more days. I also got to see Sean last
night for a few minutes. I haven't seen Myra or Ken yet.
Today at 10:00 a.m. we have "rehearsal". I was wondering what the rehearsal
was for and was informed that we had to get up in front of 6,000 people on
Wednesday and give a little of our story. 6000 PEOPLE!!!! And I get nervous
in front of just a few people!!!! But once I get talking about Subway, I
seem seem to shut up so hopefully I'll do fine.
Kevin is playing golf this morning with the Subway delegates. I'm excited
he got to come along, and especially glad that he got to play some golf.
The conference actually starts today, so I'm sure I'll have lots
more to report tomorrow so be sure to check back!
July 28, 2001 - Well, I'm back from visiting Jackie in Minnesota. What a long long drive!!!! On the way there, thanks to about 50 truckers, I did have a little fun. I stopped to get gas and a trucker came up to me and asked me what my license plate stood for (it's SBWY GRL). I explained to him that I was in a national Subway commercial, and he asked me all kinds of questions about losing my 65 pounds. He was very nice. I got back on the road and a few minutes later an 18-wheeler honked at me. I didn't think anything of it the time. Then another one went by and honked. I was thinking "Is my gas cap open or something." Well about 10 trucks and honks and waves later, I figured out that the trucker I had spoken to must have got on the radio and told other truckers about me. So I just had fun with it and started honking back and waving. There had to be at least 30 trucks that honked and waved at me! It made the long trip a little more interesting.
The town that Jackie is from is just lovely. There is a lake with a walking path around it and we took a long walk and got caught up and compared Subway stories. I took one of her pictures out of a local Subway store (with permission of course) and had her autograph it (she signed it "Hello Springfield, Jackie Biesnz"). I took it back to the Subway store today and told them they have the only autographed copy. Jackie and I took some pictures and I'll post them as soon as I get them developed (probably next week).
Today I am starting to pack for the big trip to The National Subway Convention. It's hard to believe the next time I update this page will be from Las Vegas! I bought a little gift for Sean and Jared, but I can't let what they are in case they happen to look at this website. But the one for Jared, I know you'll all just love to hear about!
Well, check back on Tuesday when I'll start telling you all about my Vegas trip!!!!!
July 23, 2001 - Only one more week until Vegas!!! Also, Thursday I am leaving to go visit Jackie for a few days. Jackie is the young girl on the newest "beach" commercial running on the beach. I've become her "Subway Mom" and we've kept in close touch. I just decided to take a few extra days and pay her a visit. You can see her on my Photo Album page. I'll be with her from Thursday afternoon to Friday afternoon. It's a 6-hour drive and I actually look forward to just getting away and relaxing. Can't wait to see her! Then I'll be back Saturday and Sunday and then off to Vegas Monday through Friday. Life is good!
July 20, 2001 - Only 10 more days until my Las Vegas trip. My husband is definitely going, so that makes it even better. I found out that our hotel has a business center, so I will definitely be updating my website every day. I will probably do it very early in the morning since there business enter opens at 6am (and I am definitely a morning person!). So if you want to read how much fun I'm having, start checking out my website daily beginning Tuesday, July 31st.
This past Thursday, the Yahoo subwaydietclub had our first scheduled chat. Oh my gosh, was it a blast! I've never had so much fun talking on the internet. All of us are dieting on Subways and it was so neat to chat with others who are going through EXACTLY the same things. Lots of great ideas, lots of motivation, but mostly a lot of fun. I really felt bonded to the group, almost like we have all been great buddies for years. We all enjoyed it so much, we are having it twice a week now - Mondays at 10pm EST and Thursdays 11pm EST. If you are dieting, I strongly encourage you to come chat with us. The clubs website is:
http://clubs.yahoo.com/clubs/thesubwaydiet
July 11, 2001 - LOTS OF NEWS! I got a call from the National Subway office and I have been invited to attend the National Subway Convention in Las Vegas, Nevada! I will be leaving Springfield on Monday, July 30th and returning Friday, August 3rd. Also attending will be Sean O'Kane (from the 1st commercial), Myra Jackson (from the newest "beach" commercial), and Ken (someone you haven't seen yet). Of course Jared will be there also! I am so excited and hoping that my husband can attend with me this time. It has been a long long time since we've had the opportunity to go somewhere together without the kids.
A funny story relating to this invitation - Yesteday, I got a tooth extracted. It was one of my front teeth. My dentist told me it would take about 2 weeks until my new tooth would be finished so I would be without a tooth during that period. I told him sternly "NOT AN OPTION!!!" I insisted he get something temporary until the permanent one was done. I said, "With my luck, I'll get a call from Subway to make some kind of appearance, and here I am looking like a typical Midwest hillbilly." So he agreed. The very next day I got the call from Subway about going to Las Vegas. My temporary tooth is now in and I look normal, thank goodness!!!!
I'm hoping to be able to update my website every day while I'm out there so I can keep you informed on what's going on. I'll be checking with the hotel to see if I can get internet access. I'll let you know as soon as I find out.
Also, on Thursday, August 9th, Sean and I will be in the Illinois State Fair Parade representing Subway. I think we will be riding in a convertible with Subway signs on it. I'm trying to talk Toby into coming to Illinois for a visit at the same time so he can be in the parade with us. That would be so neat, having all 3 of us in the first commercial together at the same time.
It looks like the next month is definitely going to be an exciting one!
July 6, 2001 - I FINALLY started my exercise program. I've been walking 2 miles a day and yesterday I walk/ran (2 minutes of walking, 1 minute of running). It felt great. It's going to take awhile to full running, but that's my goal. YEARS ago, before I got heavy, I ran alot. I even got up to 5 miles a day. But then I got in a car accident which prevented me from walking (as exercise, that is) and that was when I started putting on my weight. Now that it's back off, I'm hoping to get back into it. NOTE: Running is not for everyone. Walking is just as good, maybe even better, but I enjoy running.
June 22, 2001 -
Not much happening, but I recently got an e-mail that someone has formed a Subway support club through Yahoo! If you'd like to join and get some support and ideas while you are dieting on Subway sandwiches, here's the place to go!
The Subway Diet Club
June 12, 2001 - Everything has been pretty quiet lately. My weight is staying off (thank goodness!) and it's fun wearing summer clothes for "skinny" people! I don't buy anything anymore that doesn't show off my new figure! I now wear "cropped" tops and short short and short skirts, and wear them proudly. It's so fun to go shopping! I never liked to shop that much before, but now......
I've added several pictures on the Photo Album page so be sure to check it out! I've chatted with Jason from the new commercial several times and he is amazed at how much they are showing it! He says every time he turns on the TV, he seems to see the commercial, and he isn't even a big TV watcher. He says he's actually lost a few more pounds. I've talked to Jackie, too, and she is very excited about the commercial being on, but says it feels weird having her poster all over the country in the Subway stores. I've already put dibs on one of the posters at a local Subway store after they take it down.
Today I booked a flight in September to attend a conference Palm Springs, California. I almost feel like I'm going home! I'm hoping to maybe look up some friends I made while I was in California shooting the commercial and during the photo shoot for Woman's World Magazine.
I hope you are all enjoying your summer, as I am. Keep those cards and letters coming all you Subway dieters!!! I love hearing from you.
May 28, 2001 - The new national campaign ad started this weekend. Jason, Jackie and Myra all look fantastic!!!!! Watch for them. It should be showing pretty consistently now. I'll be adding my personal pictures of them in the next few days so stay tuned!!!
May 15, 2001 - The State Journal-Register had another little blurb about me today in Toby McDaniel's column. He told the story about Ralph (see May 8th update) that lost weight after following my exact diet.
Also, I got a call tonight and was asked to be a "celebrity" (????) judge for the Little Miss Stonington competition in Stonington, IL at their Summer Festival. Sounds like so much fun!!!!
May 8, 2001 - I was on Q106.5 radio out of Davenport, Iowa today. What an awesome experience. Ralph, who works at the station, lost 75 pounds following my exact diet and him and I talked about our weight losses. I received the most wonderful letter from him the other day - here it is:
It's Ralph again from up here in the Quad Cities with Dwyer and Michaels. Well, 15 weeks ago when we talked to you on the show we told you I was going to try the diet and see if I could lose 75 pounds. Well, less than four months later, I went to weigh in yesterday and with losing six pounds last week, I made it! I have now lost 75 pounds, all because of us talking to you and because of Subway. I can't tell you how happy I was when I went to my doctor to weigh in and they told me that I had hit the 75 pound mark! I wanted to let you know because you are the one who helped make this happen for me... Thank you for your story and your success on the diet. It made it possible for me to accomplish something I never thought I would be able to do.
Here is Ralph's before and after pictures. Doesn't he look great?????
| | |
| --- | --- |
| Before | After |
| | |

I am so excited for him. I'd love to meet him someday! I can't tell you how good it feels to know I'm helping others to do what I've done. You can see more pictures of him on the following link:
WAY TO GO RALPH!!!!!
May 5, 2001 - The new commercial was so awesome. Everyone looked just wonderful. I talked to a couple of the new "stars" and they were also very pleased with how it turned out. I am so happy for them. I know how exciting (but weird!) to see yourself on TV.
I received the most wonderful e-mail from Ralph who works for Q106.5 out of Davenport, IA. I interviewed on their radio station several months ago and Ralph decided to try the diet. He lost 75 pounds!!!! You can read part of his e-mail on my "Comments from Dieters" page.
May 3, 2001 - Some pretty exciting news. Tonight on the season finale of Survivor, there will be a new Subway commercial premiered. There is a whole new group of Subway dieters who have lost lots of weight. I've met them all personally, and they all look fantastic! I know you'll love the commercial! If you don't see the commercial tonight, I'm sure you'll have lots of other opportunities in the future.
April 29, 2001 - This week, my website is being highlighted on the Members Spotlight of Tripod. This is pretty exciting since Tripod has over 6 million members. What an honor. Here's the link!
April 20, 2001 - I've FINALLY started walking. Kevin and I have been taking long walks in the evening. And guess where we've been walking to? Subway! We have one that is fairly close, and one that is about a mile away. We've walked to both of them now, got our sandwiches for dinner, and walked home. There is another Subway about 3 miles away and we're going to walk to that one this weekend when we have more time. It is a brand new Subway, having moved a few doors down from their old location. Kevin has been there several times and said it is really nice and very roomy. I'm anxious to see it. I have been approached by the owners to be there when they have their official grand opening sometime in the near future.
Yesterday, I tried a new sandwich at Subway and I think I've found my new favorite. It was a turkey rib sandwich and it was great! It is listed under the 6 grams of fat or less. Unfortunately, they only serve it at two locations in town. But one of the locations is close to where I work, so I guess I'll be frequenting that one more often during the week.
This week my hometown newspaper had a huge article about me. I'd share it with you but they don't have a website.
The e-mails continue to pour in. There are quite a few "regulars" who continue to contact me, and so my circle of cyberfriends has grown, which keeps me busy on the internet. But you won't hear me complain - keep those e-mails coming!
April 11, 2001 - The e-mails are really flooding in this week! Lots of NAESAA members (and lots of NAESAA members on a Subway Diet now, too)! Looks like they may have to serve Subway Sandwiches at our annual conference this Fall. Seriously, thanks to all of you who wrote such wonderful notes. And thanks to Bonnie Allen who wrote the article in the NAESAA. She did such a great job!
The national commercial seems to be running more often again. All of a sudden I'm being recognized everywhere. The best one was when I was getting my Subway one day at lunch and a lady stopped me and asked me if I was Pam. When I told her I was, she was so excited to meet me because she had followed my diet and lost 30 pounds. It was so neat to talk to her - hearing about other's successes makes this whole adventure twice as nice. Also, I was in a store the other day and a group of about 5 store employees were looking at me kind of seriously. I thought maybe I did something wrong. Then one of them came up to me and asked "Are you Pam Blakeman?" I told them I was and he yelled to the others "Hey, it is her!" What a weird feeling it was. But I ended up talking to them and they were all really nice. Later that same day, Chad and I went to return a video game and the cashier asked for my autograph! Chad couldn't believe it! As for me - what a day it was! Being the people person that I am, it's so fun to meet so many new people, so if you see me, don't be afraid to stop me - I LOVE IT!
Not much other news right now, but keep checking back because big things are in the works!!!!
April 6, 2001 - The weather is finally turning into Spring here in the Midwest, and I am going to start a rigorous walking program this week, and eventually get back into running (which I did SEVERAL years ago). I like running in the morning (5am!) so the most difficult feat will be getting up that early and getting outside! My goal for 2001 is to enter the Women's Fitness Race, which is 5K race. We'll see what kind of shape I'm REALLY in - it's been a long time since I ran.
A quiet week. If you didn't get your Woman's World Magazine this week, you better hurry since it's a weekly magazine and next week's will be coming out the next few days (I'm on page 20 of the this week's edition). The regional commercial with Sean is still showing all the time, and I am recognized everywhere I go from those who've seen the commercial or the Woman's World magazine. I just love meeting so many new people and making new friends.
I did have one radio interview out of Austin, Texas. Also, I was e-mailed by Tripod, who hosts my website, that I am going to be featured in the April 26th Tripod Member Spotlight for my website. This is quite an honor since they have over 6 million members!!! When it comes out, I will have a link to the page so you can see it. Also, I am featured in the National Association of Executive Secretaries and Administrative Assistants' monthly newsletter, the Executary. I am a member of NAESAA, and attend their annual conference each year. This year it is in Palm Springs, California in September.
Well, gotta run!!!
March 30, 2001 - The Woman's World Magazine is out!!!! The article about me, Zoe, and Kimberly is great and the pictures aren't too shabby either. Good luck trying to find a copy since I'll be buying LOTS of copies myself.
I just got back from a wonderful week-long trip which I'm sure you'll be interested in, but you'll have to wait for a few months to get all the details - sorry! Hopefully, this will peak your interest so you will keep checking back to my website.
Also, today I added an "All About Me" page!
March 20, 2001 - The server who hosts my website accidently deleted my site for a few days. I received LOTS of e-mails from people wondering where I went. Well, I'M BACK!
Toby McDaniels had ANOTHER piece about me in his article yesterday in the State Journal-Register.
Yesterday, I also received a tape from Subway International with clips from The Today Show where Jared and Kimberly were interviewed, and Saturday Night Live and The Jay Leno Show where the national commercial was spoofed. What an honor being shown on Jay Leno and being "spoofed" on Saturday Night Live
March 14, 2001 - I heard that Saturday Night Live did a spoof on our national Subway commercial last week. Toby McDaniels, of the State Journal-Register, asked me if I got to see it. I told him no, so he wrote about it in his column today and two very nice people got ahold of me and gave me a copy of the clip! It's pretty funny. The girl who "imitated" me didn't quite have my strut down, but she was pretty close. Of course, she weighed a few more pounds than I do (probably around 100 pounds more)!
March 12, 2001 - I couldn't say anything earlier, but I can let the word out now that the time is drawing near - I am going to be in the April 3rd issue of Woman's World Magazine! Zoe, who made the national commercial with us, will be on the cover. They flew me out to L.A. for the photo shoot. Boy did they make me look great! Be sure to watch your newsstand the first of April. Someone told me not to be upset about not being the covergirl; but to be excited that I'm the centerfold!!! I thought that was cute.
While out there, I got to meet a REAL celebrity - her name is McKenzie Whetmore, and she is one of the main actors on the daytime soap "Passions." She is SOOOO pretty and VERY nice. She's the same age as Toby (the mountain biker in our commercial)...hmmmm.....
Did anyone see "Saturday Night Live" Saturday night? I heard they did a skit about our national Subway commercial. I missed it and am attempting to get a copy of the clip.
I am getting a lot more recognition since the regional commercial began airing. I have to plan at least an extra half hour when I go run errands because people are recognizing me and coming up to talk to me. It's been a really fun few weeks and I've met a lot of really nice people.
Thanks to all of you who keep checking back on my website. Don't be afraid to drop me a line once in awhile and let me know what you think of my website.
March 5, 2001 - I haven't had an update for a few days because things have quieted down and there hasn't been much to report. But today, a family friend, Brian Moore, wrote a really nice article about me in our local paper. Unfortunately, it's not posted on the internet so I can't share it with you. But trust me, it was VERY nice. (Thank you, Brian! You're a sweetheart!)
I got asked to be a guest D.J. on the Powerlight radio program on WDBR on Sunday, March 18th, and I'm also going to be a Celebrity Waiter at Powerlight's Celebrity Waiter Dinner on Friday, March 31st. I'm trying to think of something really spectacular to do for the guests I will be waiting on...if any of you have any ideas, please share them with me. I want to make the night special for my guests.
I continue to receive a lot of nice e-mails from people losing weight eating Subway sandwiches. My web site now has over 20,000 hits!!!!
My "one year anniversary" was this past week. It was one year ago this week I began my diet. Who would have thought last March that deciding to go on a diet and losing 60 pounds would lead to such an exciting adventure! I hope the adventure continues; but even if it doesn't, I'm so thankful for all the opportunities I was blessed with over the past year and all the wonderful people I have gotten to meet and know.
February 24, 2001 - Today I bought a scanner, so it will make it much easier to update my web page! I scanned in a few pictures on my Photo Album page - take a look! Wednesday, February 28th, I am going to be a guest co-host on the WIBI 90.5 out of Carlinville, Illinois, on the morning program. The Carlinville Subway restaurant is going to supply us with sandwiches just the way I eat them so the host, Paul Anthony, can try it out on the air.
My presentation went great - everyone said they enjoyed it immensely. I was nervous at first, but once I got talking, I couldn't quit (typical of me!). I even got asked to make the same presentation again at a big conference in October!!!!
I received some really nice letters this week. Part of the best one is on my Comments from Dieters page. It is so exciting hearing about others who are losing weight following my diet.
Things have slowed down a bit, but will probably pick up after Monday, when the regional commercial starts airing. Next week is an important landmark - IT'S MY ONE YEAR ANNIVERSARY OF THE BEGINNING OF MY DIET!!!! Little did I know what that decision to diet would lead to - I never thought I'd get down to 127, and I definitely never imagined it would lead to a national commercial and making so many new friends!
February 18, 2001 - I started a new exercise program and just love it. I joined "Healthy Woman" and it's great. It's a low-impact, quick workout. It only takes 1/2 hour to go through the program, which is perfect for my busy lifestyle. They weighed me in and I am still at only 127, which is amazing considering I just got back from vacation.
I'm getting ready for my big Subway Diet presentation on Tuesday. I had a lot of my pictures made into slides, so I'm going to have a slide show as well as show the tape of my commercial. Since Toby McDaniel's mentioned it in his column, hard telling how many people will show up. I'm a little bit nervous, but if there's anything I DON'T have a hard talking about, it's my diet and the making of the commercial.
February 17, 2001 - Another article about me in the State Journal-Register.
February 14, 2001 - I'm back!!! I had a wonderful vacation. While I was gone, Jared was in town. While he was on COOL 101.9, the DJ's had me on the phone and I got to present my present to him personally on the air. It was an 8x10 picture of "The Subway Gang" in a really nice frame which was engraved "Jared, Thanks for Being Such an Inspiration. Pam Blakeman." I would rather have been able to present it to him in person, but at least I got to talk to him. My husband went and met him at one of the Subways where he was making a guest appearance and was as impressed with him as I was.
One thing I forgot to mention on my trip to LA last week, was I got to meet a REAL celebrity. I met McKenzie Westmore who is one of the main characters on "Passions." She was just beautiful and very nice. I got to spend quite a bit of time with her mother. I really enjoyed visiting with her - she is also a very very nice lady.
Next Tuesday (February 20th), I am giving a noon-time presentation of my Subway Diet and what it's like to make a commercial to my fellow City-employees. The regional commercial that I'm in should start appearing on TV in the very near future, as well as the radio commercials.
I heard that while I was in L.A., Jay Leno did a spoof on the Subway commercial and actually imitated me! I am very flattered (I think I am anyway - I didn't get to see it).
On the way back home from Florida, a lady kept looking at me and told me I looked familiar. I finally told her she's probably seen me on TV. She knew right away where she'd seen me. It was the first time I'd actually been recognized!
I've really enjoyed the last few weeks, but it sure is nice to be back home
February 7, 2001 - I just got back from L.A. and my "special project". It was great - the weather was wonderful and it was so much fun. I can't wait to tell you all about it. I was picked up at the airport in a limo, and my hotel room was fantastic. Everyone was wonderful. However, going from the hot weather back to the cold has made me catch a really bad cold....but it was worth it.
I'll be on vacation for a week, so there won't be any updates again until at least February 14th.
February 2, 2001 - Today Sean and I taped a new commercial in Peoria, Illinois. It's amazing how exhausting shooting even a short commercial can be. The commercial will be shown regionally in a few weeks. We actually have speaking parts in this one! We also taped some radio commercials. We went out to eat afterwards, and it was nice spending time with Sean and his wife again (and my hubby was there too!).
Monday and Tuesday I will be in L.A. for a photo shoot for a new project, which will be revealed at a later date, but it's quite exciting. Next Friday Jared is supposed to be in town; however, I'll be away on a much-needed vacation. But I have something special planned for him while he's here. Check back next week to find out what it is.
I have decided it is past time for me to get into gear and firm up a bit more. I have been walking on my treadmill, but I'm ready for more. I now have a membership at "The Healthy Woman." My first appointment is on Wednesday and I'm anxious to get started. I visited their new facilities a few days ago - it's just right up the street from my house. It's only a 30-minute work-out, which is perfect! I don't need to get any thinner, but shape up what I got. Hopefully I'll have some new (and even better) "after" pictures to share with you in the near future.
January 31, 2001 - Friday, Sean and I are shooting a regional commecial. I look forward to seeing one of the "Subway Gang" members again! If time allows, Sean, me, and our spouses are going out to eat afterwards. We are also taping some radio spots. I found out today that Jared is coming to Springfield February 9th. Darn the luck - I am going to be out of town that day!! I'm REALLY disappointed - I still think of him as my "hero". I'll never forget that he's the one who inspired me to lose the weight, and I would probably still be 60 pounds overweight if I hadn't seen him on Oprah Winfrey that day almost a year ago. Next week is a VERY exciting week for me. I can't wait to share it with you...but right now it's kinda hush-hush. So keep checking back to find out the big news.
Be sure to check out my "Comments from Dieters" page. Almost every day I am adding exerpts from e-mails I've received from people who are following my plan and losing weight!
January 25, 2001 - Found out today that Kimberly and Jared are going to be on The Today Show on Saturday, January 27th! Be sure to watch. Kimberly's story (and of course Jared's) is amazing! She lost 110 pounds.
January 24, 2001 - Another article in our local paper on me:
January 23, 2001 - I did a radio interview out of New York City this morning and once again my web page count went way, way up. I got lots of e-mails today from people who have done the diet now for a week and lost weight already. Some of them are included on my "Comments from Dieters" page. I'm so glad so many are seeing results so soon.
January 19, 2001 - This morning, I did a radio interview out of San Diego, CA. I broke 1000 for one day on my web site yesterday, and today I will probably break 2000 for one day and 10,000 total. Not bad for just a couple months. Last night I went to a local radio station's open house and had a great time. I got to meet several DJ's who had interviewed me several times, but I had never met them face-to-face. I had my picture taken with the DJ's from Cool 101 (WQQL) and will post it on my web page when I get a copy. Also today an interview out of New York City was set up for next week.
But the most exciting news for the day was that I found out I will be shooting a regional commercial next week. It will be shot here in town and I will find out all the details on Monday. Check back soon for more details.
January 17, 2001 - Radio interviews out of Des Moines, IA and Albany, New York today. Answered 38 e-mails and broke my record of hits on the web site - 750 hits!!! Lots of nice e-mails which I've again included on my "Comments" page.
January 16, 2001 - What a crazy day. Would you believe I answered 46 e-mails this evening!!!!!! I'm thinking about hiring my own secretary. Seriously, I'm enjoying reading all the mail, although I'm not getting much done around the house these days and my 14-year old is getting angry that I'm "hoggin' the computer!" I' ve again included several new "Comments from Dieters". I've had 358 hits (so far) on this website. I also got three more calls from radio stations for interviews - Philadelphia, PA, DeMoines, IA, and Memphis, TN.
In case I missed anyone, THANKS TO ALL OF YOU WHO WROTE SUCH SPECIAL COMMENTS IN MY GUESTBOOK! Keep those cards and letters coming.
January 15, 2001 - This morning I had a radio interview out of Scranton, PA and (get this!) later this afternoon I have a radio interview out of GUAM!!!! I had over 250 hits on my website today. I remember getting excited because I got 50. Yesterday I spent a large part of the day answering e-mails. I answered around 30 of them. Last night I chatted on Instant Messenger with a couple of those who e-mailed me. Today I answered 28 e-mails! It is so rewarding to be able to encourage others and to make so many new friends - and all over the country.
January 12, 2001 - Another couple of exciting days. My web site had 317 hits on Wednesday, 512 on Thursday, and over 200 today so far. But the best part has been on the e-mails I've received. I've answered every single one and will continue to do so as long as I can.
The highlight of my day, though, was being able to talk to rest of the "Subway Gang" on a conference call. It was nice hearing their voices again - we e-mail each other, but it just isn't the same. Toby (the foxy guy in the commercial with the bicycle) wasn't able to make it into the conference call, but he called me at home tonight and we were on the phone for 45 minutes!!! He's hoping to come for a visit this summer and spend some time with me and Sean (the other guy in the commercial who lives in the area).
I met with a couple of the local Subway owners and they have some great plans for me in the next few months (keep visiting my site to find out where and when!). It will be nice to get out in the public and meet some of those who have e-mailed me.
Be sure to visit
www.Subway.com
and click on Sean's picture to go the the new page where you can read about and see pictures of the whole Subway gang.
Keep those e-mails coming...I'm really enjoying all the new cyberfriends I'm making.
January 10, 2001 - What a day! Yesterday I was on a radio station out of the Quad Cities (Davenport, Iowa area), and they must have a lot of listeners! On a normal day I have 30-40 hits on my web site. The most I've had on any one day (up until yesterday) was 145. Yesterday, I had 705 hits!!!!! I also received 22 e-mails - I answered every one personally today. Some of them had some wonderful comments, which I've placed on my "Comments from Dieters" page. I am going to do a radio interview out of Kansas City, Missouri tomorrow morning and a radio station out of Pennsylvania (near Scranton) on Monday. I have a meeting with 2 Subway owners here in town tomorrow who said they have some exciting local things planned for me. I can't wait to see what is around the next corner....
January 5, 2001 - Well, the commercial is being shown on nearly every TV station I think. Every day I hear about someone seeing it on a different channel. My aunt who lives in Alabama has seen it, and my even my sister in Florida! Sometimes I forget what a big audience this covers. And just wait until the Super Bowl!!!! WOW!!!!
Today I finally got my SBWY GRL license plates!!! I got them at noon and came straight home and had Kevin put them on. I'm going to have my picture taken sitting on my car (with my license plate showing) and post it on this web site as soon as the slush and snow is gone and I can shine my car up a bit.
I've had several more radio interviews - one station out of New York, one out of Indiana, and one coming up out of Iowa. And I've heard the local radio stations talking about the commercial frequently. I really enjoy doing the interviews, and always gets lots of hits on my web site afterwards.
I have been getting lots of wonderful e-mails, some of which I've included on my Comments from Dieters page. It makes me realize that we didn't just make a commercial - we gave hope to people who had begun to lose it. I love hearing from all of you, so keep writing! I try to answer every single one.
------------------------------------------------------
December 31, 2000 - HAPPY NEW YEAR!!!! (Well, almost...) Today we were watching the football game on CBS, and the commercial was on again! In fact it was on several times. What a nice surprise. It will probably be on quite a bit in the next 6 weeks. I don't think I've ever looked forward to a new year as much as I look forward to 2001. This past year has been unbelievable, and I think 2001 is going to be even better. I thank God for helping me discover a weight loss plan that works for me. THANK YOU SUBWAY!
December 27, 2000 - I've received so many wonderful e-mails and letters that I've added a page to my web site just so I can share them with you. Many of them are from people planning to go on the diet 01/01/01! If you are now or are going to follow my diet, please keep me updated on how you're doing!! There has been no greater reward from this as those who have written with renewed hope to lose weight because of my experience. Thank you to all who have written such sweet and encouraging notes.
December 22, 2000 - Our commercial debuted today on CBS during the post-game show. I was told it also debuted on NBC, but I was watchiing CBS. I heard it would be on again tomorrow. It turned out really great! It amazes me that it took so many hours to make just a few seconds of tape! I had lots of phone calls afterwards from friends and family who were very excited when they saw it. After tomorrow, you probaby won't see it again until January 1st. Then you'll probably see it ALOT.
December 20, 2000 - I was interviewed on a live radio radio station out of New York today. Afterwards, I got several e-mails from people who had heard the interview and are going on the diet starting January 1, 2001. Many of them had questions. It is so exciting when people decide to go on this healthy diet after hearing me or reading my website. After they start losing weight, many are writing to tell me about their success and that is even more exciting .
December 14, 2000 - Today, Kevin and I went to Bloomington, IL and attended the Central Illinois Subway Christmas party. It was so nice to be able to spend some time socializing with the Central Illinois Subway owners, but the best part was we got to spend time with Sean (one of the others in the commercial). It was good to see one of my Subway family again. The local owners are also very excited about the up-coming commercials. I've received numerous e-mails and phone calls since the latest newspaper article. Here is a paragraph from one e-mail I received that makes all of this so rewarding:
Hi Pam!
It was great seeing you in Minier a couple weeks ago. I started my diet the next day and as of today I have lost 10 pounds. I don't have to lay on the bed to zip up my jeans anymore. I have a Christmas Party to go to tomorrow night and my dress fits perfect.
See how fast the weight seems to come off!!!! I now have 1600 hits on this web page!!!! People who are on a Subway Diet are coming out of the woodwork, and I'm really enjoying making so many new friends (so keep e-mailing me!!!) I probably won't have any more updates until after Christmas, so here's wishing all of you a very Merry Christmas. Be sure to check out My Christmas Page link, as that page will soon be gone.
December 6, 2000 - another article was printed in the State Journal-Register about my trip to L.A. to make the commercial!!! Also, I'll be interviewed on WQQL 101.5 out of Springfield tomorrow morning at 7:30 a.m. Only one month until the commercial airs. Stay tuned as the fun continues!
December 1, 2000 - It's been over a week since I've been home and things are somewhat getting back to normal. However, I did a long radio interview on WIBI out of Carlinville, IL. WIBI has been very supportive - giving daily updates while I was in L.A. On Tuesday, I went to lunch with Kathy Rem, who did the first article on me in the State Journal-Register (of course we ate at Subway!). I told her all about my trip and showed her my pictures. She is writing another article on me (with pictures) and it will be in the paper on Wednesday, December 6th. I will add a link to the article on Thursday. By that time, I should also have several more pictures and will add them to my Photo Album page.
I learned an e-mail was sent out by the Subway Corporate Office telling Subway owners around the country about my web page. I have received many nice notes from Subway owners from all over, and you will notice my web page now has over 1,000 hits. I've also received e-mails this week from all of the other members of the "Subway Family" who made the commercial with me. (I miss you guys!) My son, Chad, had to write a paper today at school on someone they were proud of - and he wrote it about me, my weight loss, and taping the commercial. That made my day.
Be sure to check back next week as there should be lots of additions to my pages. Thanks to all of you who sent me e-mails and called me since I got back. You have made this adventure even more enjoyable than it already was.
November 20, 2000 - It's been a few days since I've added an update, but they've been keeping me so busy, I haven't had time. The second day of shooting was even more tiring than the first. We started at 9:00 a.m. and didn't finish up until almost 7:00 p.m. Today's cast included over 50 extras!!! At the end of the shoot, we said our goodby's to the production crew, which was sort of sad. It's hard to believe we've only known them a few days.
The "Subway Gang", including Jared, all went out to eat after the shoot. We finally got to see our first "movie star." It was the little boy in "Malcom in the Middle." Personally, I've never watched the show, but he was awfully cute.
We found out that the commercial will begin airing in January. There are a few other surprises in the works, but you'll have to keep checking my updates to find out what they are.
Saying goodbye to the Subway Gang was the hardest. They've become like family, but I'm sure we'll all be together again in the future.
It's good to be back home; I'm still on Cloud 9 and it may take a few days to come back to earth. This has definitely been an experience I will remember as long as I live. Thanks to all of you who have been sending me letters of encouragement and praying for me.
November 17, 2000 - Today was fun, but exhausting. We had to leave for the shoot at 6:30 a.m. to go to our "home base", where we started out with a breafast fit for a king, before spending a great deal of time in hair and make-up. I have to admit, I looked pretty darn good. They can do miracles. Then we drove to the first set where it seems we took 100 "takes". We broke for lunch at one point (again fit for a king) and then went back and did it all over again. We finished up around 3:00. I'm not giving any clues as to what we taped - you'll just have to wait and see!
Jared is just as nice as they have said he is - just a regular down-to-earth guy. He was very helpful, giving advice and encouragement. He hung out with the rest of the Subway Gang last night in the hotel and now our "family" has six members. Of course, he's #1, since none of the this would have happened if he hadn't led the way.
The thing that amazed me the most is how many people are involved in something like this. It's very awkward having all those people's eyes on you when they say "Action!".
Tomorrow is another shoot day and we get to do it all over again. It was tiring, but very exciting and fun and I'm looking forward to tomorrow. But I'm especially looking forward to seeing the end product.
November 16,2000 - Friday was a fun but tiring day. Choosing a wardrobe is hard work. I must have tried on 20 different outfits. It took 4 1/2 hours. We'd try an outfit on and then they'd take a picture. Then we'd try on the next outfit, then the next , then the next, etc. Now they will show the photographs to the director and he will choose what we will wear for the commercial.
Jared gets in today(Saturday) at 9:00 a.m. and goes straight to wardrobe. We will finally get to meet him tonight at dinner.
Tomorrow the real work begins - taping the commercial. It's hard to believe it takes so much time and work to tape a short commercial. But I'm having a great time and I know I've made lifetime friends with the rest of the Subway Gang.
November 15,2000 - Well I'm really here. I knew I had arrived when I saw the "Hollywood" sign. My room has a great view of the "valley". It's very breathtaking! Our drivers name is Michael. He's been assigned to take us wherever we want for the next 5 days. Jared doesn't arrive until Saturday, but everyone else arrived yesterday. The "Subway Gang", consists of:
Toby - age 23 - from Nebraska - lost 91 lbs.
Sean - age 27 - from Champaign, Illinois - lost 95 lbs.
Zoe - age unknown (around 25) - from Toronto,Canada - lost 145 lbs.
Kim - age 29 - from Virginia - lost 110 lbs.
Last night everyone gathered in my room and looked at before pictures and shared stories. We're all stunned at even being here. I found out we were chosen from a group of 17 people. We all feel like we've won the lottery.
Today is wardrobe day. We will all get to choose what we will wear for the commercial. Tonight we are being taken out to a very fancy restaurant. Tomorrow we're going sight-seeing in a big white stretch limo.
I'm taking lots of pictures to share when I get home. We are taking a group shot today, and getting it developed at a 1 hour photo shop to present to Jared when he arrives on Saturday. We're all very anxious to meet our mentor.
More to come tomorrow.
November 14, 2000 - Finally got "the call". I'm leaving on Thursday (for sure!) and heading to Hollywood! I will be picked up at the airport and be taken to a hotel right across the street from Universal Studios! Friday is a "down day" to unwind before the work begins. I plan on spending my day at Universal Studios and exploring downtown L.A. Saturday will be wardrobe day. We will be shooting the commercial on Sunday and Monday and I will be flying back home on Tuesday. I'm so excited I know I won't be getting much sleep the next few nights. That's all I need - bags under my eyes!!!! I started packing tonight and am taking way too much, but I'd rather have too much than not enough. The next time I type an update will probably be in L.A.
"Hurray for Hollywood!"

November 13, 2000 - The Oklahoma City interview went well. Only lasted about 10 minutes, but it was fun. I got another call from the advertising company. Now they say I'm not leaving until Wednesday. I asked them if they would at least tell me where I was going to be flying, and they said L.A.!!!! Perfect timing, since it is sooooo cold here today. I mean really cold. I'm looking forward to going somewhere warm. They said they would call me again tomorrow and hopefully all the plans will be finalized. Guess I should put away all my winter clothes I was going to pack and bring out my summer ones. (Check out "The Diet" link - I've added Reasons to Go on the Subway Diet).
November 11, 2000 - got a call from the Subway marketing company. Seems they want me to come out on Tuesday instead of Thursday. Wish I knew where I was going! I'll guess I'll find out on Monday.
Also got a call from a radio station out of Oklahoma City, Oklahoma. I'll be doing a live interview on Monday at 9:10. I'll get a copy of the tape to add to my collection. This is so fun!